Vibrations – A Celebration of African Instruments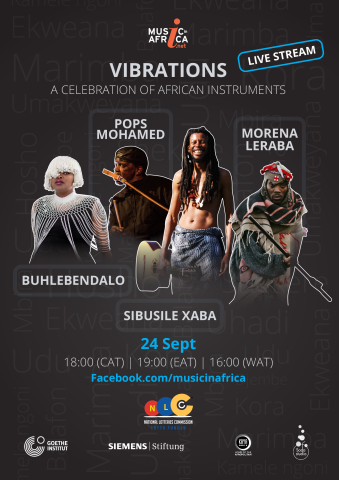 Join prolific musicians Pops Mohamed, Morena Leraba, Sibusile Xaba and Buhlebendalo for the Vibrations – A Celebration of African Instruments concert on Heritage Day (24 September). 
The free-to-view concert will be streamed on Music In Africa's Facebook page at 6pm CAT (4pm GMT). 
Vibrations – A Celebration of African Instruments will be the conclusion of the Music In Africa Foundation's 2020 Instrument Building and Repair (IBR) project, which will train 20 young participants to make traditional instruments during an intensive workshop programme from 19 to 24 September. The aim of the IBR project is to encourage the use of traditional instruments in Africa and emphasise their value, especially for the younger generation. This year's focus instruments are the mbira and kamale ngoni. 
The two-hour showcase will feature some of the instruments created during the workshops as well as contributions from accomplished traditional instrumentalists from across the African continent.
Watch the concert here.
The Music In Africa Instrument Building and Repair project is funded by the National Lotteries Commission (NLC). It is implemented in partnership with Siemens Stiftung, Goethe-Institut and Kaya FM.
Connect with Music In Africa on Twitter, Instagram and Facebook, and subscribe to our monthly newsletter.