Single collaboration release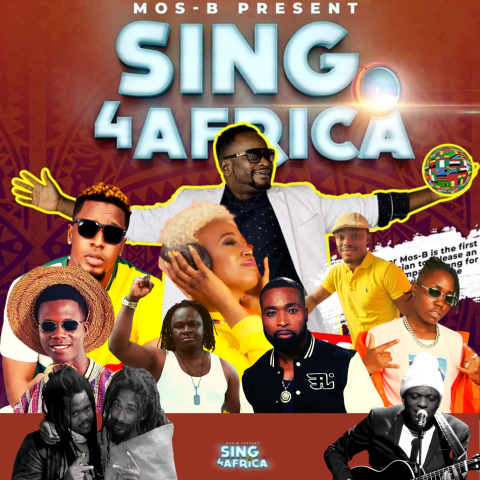 After a successful Festival Sing 4 Africa which brought unity among musicians across Africa. A new initiative was born. Collaboration on the concept "Sing 4 Africa".
Artist went to work and the result is a beautiful afro track which will be released on October 31 with a video. Mos-B put the song together sent it to the interested artist who took part in the virtual festival to add their own flavour to the composition of Mos-B. All sponsorship to mix master edit video clip done by Mos-B. Bonus we will be on the front cover of a wonderful Magazine from the United States The famous Chicago Bridge Magazine to be precise.
The famous Chicago bridge was moved by the initiative and collaborated with the "Cotton Tree Talk". The magazine went on to sponsor a Celeb Interviewer Isaidit from the Isiadit management, for a week awesome artist interview. The song will be released on the Cotton Tree Talk tv platform with celebration and live event of al the artist followed by interviews.
Soon come Boom come #sing4africa #cottontreetalk #MosB #mos-b
Après un Festival Sing 4 Africa réussi qui a apporté l'unité entre les musiciens à travers l'Afrique. Une nouvelle initiative est née. Collaboration sur le concept "Sing 4 Africa".
L'artiste s'est mis au travail et le résultat est un beau morceau afro qui sortira le 31 octobre avec une vidéo. Mos-B a assemblé la chanson et l'a envoyée à l'artiste intéressé qui a participé au festival virtuel pour ajouter sa propre saveur à la composition de Mos-B. Tous les sponsors pour mélanger le clip vidéo master edit réalisé par Mos-B. En prime, nous serons en couverture d'un merveilleux magazine des États-Unis, le célèbre Chicago Bridge Magazine pour être précis.
Le célèbre pont de Chicago a été déplacé par l'initiative et a collaboré avec le "Cotton Tree Talk". Le magazine a ensuite parrainé un intervieweur de célébrité Isaidit de la direction d'Isiadit, pour une interview formidable d'une semaine avec un artiste. La chanson sera diffusée sur la plate-forme télévisée Cotton Tree Talk avec une célébration et un événement en direct de tout l'artiste suivi d'interviews.
View more events by Mos-B