MTN Bushfire festival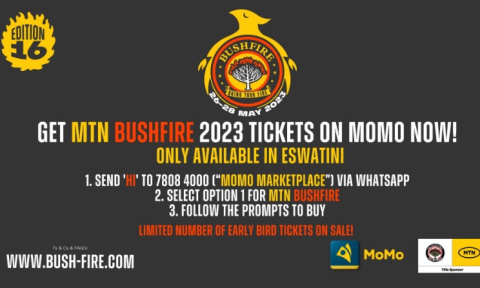 The 2023 edition of MTN Bushfire festival will be held in Malkerns Valley, eSwatini, from 26 to 28 May. The line-up includes Sho Madjozi, French duo Ibeyi, Qibho Intalektual, Ami Faku, Stogie T, Black Motion, Jack Parow, Pongo,  Maleh, Velemseni, iYA, Bantu Spaceship/s, Ghorwane, Vox Sambou, The Divebombers, Afrotronix, Fayazer, Scúru Fitchádu, Javier Díez Ena and Rumbo Tumba. 
Audiences can also look forward to the Africa Blues project from South Africa featuring accomplished musicians Sima Mashazi, Louis Mhlanga, Schalk Joubert, Albert Frost and Jonno Sweetman.
Tickets and more information are available on the official website.