Urban Gospel Rave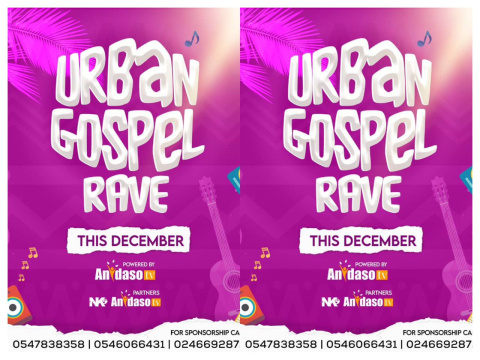 Urban Gospel Rave is a festival that would be mainly hosted for urban gospel musicians and would be held annually to push the urban gospel agenda and to give platforms to promising urban gospel artiste who are sidelined by mainstream gospel event organizers and promoters during the
december festivities and to give the youth an alternative opportunities to find a jam that is Godly oriented and safe to have fun as Christians.
The event would be a night content that targets Christian youth between the ages of sixteen to forty who are lovers of the new trend of gospel music that traces it's root to the late Danny Nettey and now being spread abroad by many Ghanaian Christians.
Some notable names associated with this gospel genre includes: Cwesi Oteng, Kingz Kid, Elijah The Worshiper, The Preachers, Scott Evans, Kobby Psalm, Quabena Asare, Seth Diamond P.O Godson among hosts of others.
Artistes set to thrill audience include, ​Scott Evans, ​Jonn Winner, ​Elijah The Worshiper, ​Kobby Psalm, ​Quabena Asare, P. O Godson, Seth Diamond, Jayana, ​Cwesi Oteng, Nat Abbey, ​Jux Prince and more to be announced.