Mambo Tribe Live at The Koroga Festival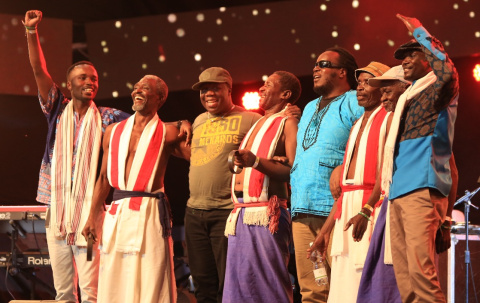 The Mambo Tribe: is a band made up of multi cultural musicians hailing from different parts of Kenya on the local scene and musicians of different nationalities on the international scene. The band can be described more as a cultural safari ensemble due to the nature it takes based on location and collaborations with local musicians thus adopting the sounds of its destination/host town when on tour. The band's core members are 1 Wakake Otieno - Band director - One of Kenya's most prolific percussionists. 2. Michel Ongaro - Music Director -A musician/instrumentalist who is adaptive to different artistic situations.
3. Amani Baya - Kenya's leading drummer.
4. Samuel Mbaluka - Bass player - has been with the band for just over an year.
5. Additional instrumentalists - Mokua Rabai (Sax) The band has been in existence since 2015 when they started experimental performances under the Jazz conversation events and later diversified to include electronic elements in their performances. The band has toured as a traditional outfit to Norway, Malawi and done performances in Nairobi. The band's itinerary for the 2nd and 3rd quarters of 2017 is an exchange tour in Malawi in June, a performance in Dar on the journey back ending up in performances in Nairobi and at the Kenyan coast. The band has released a stop gap collaborative album entitled Komashol Brek, even as they continue working and recording additional songs based on the Miji-Kenda sounds and culture. These will be in the form of two albums is due for release in December 2018 and will feature musicians from Kenya, The USA, Europe and other parts of Africa. The band has always been influenced by Kenya's traditional sounds and looks at bringing the same to mainstream music platforms through different genres, collaborations and popular and alternative platforms.