ISCM World New Music Days 2023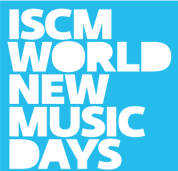 South African contemporary music organization NewMusicSA will proudly host the ISCM World New Music Days in Johannesburg and Soweto in 2023. The festival will feature concerts by professional orchestras, ensembles, informal groups, collaborations and soloists. The music featured throughout this festival will include new and innovative works from across the international membership of the International Society for Contemporary Music (ISCM), alongside a rich and varied array of music from Africa.
Planned to take place from November 24 until December 3, 2023 mostly in Johannesburg and Soweto but with some additional concerts in other South African provinces beyond Gauteng, the World New Music Days 2023 will gather hundreds of composers, performers and other music professionals from all over the world in a 10-day intense and delightful program of concerts, workshops, conferences and multiple side activities.
The host, NewMusicSA, is a non-profit organisation founded 20 years ago to support contemporary music in South Africa, Its track record includes the production of yearly festivals (Indaba and Unyazi), commissioning dozens of new works, organising workshops, or publishing academic bulletins, among many other activities. It is currently the only African member of the International Society of Contemporary Music, a "United Nations" of the contemporary music scene with over 60 chapters globally founded 99 years ago. Their flagship event is the World New Music Days, a festival that takes place every year in a different country.
The World New Music Days 2023 in South Africa will be a historical milestone for two reasons: it will be the ISCM's centenary celebration, and it will be the first WNMD ever to take place in Africa, marking a departure by the ISCM from its well-trodden paths in favor of less charted paths, the unknown and underexposed. No festival for innovative and experimental music of this breadth and magnitude has ever been organized on the African continent. It will be only the third time this festival is held in the southern hemisphere and the third time it takes place in a country of the Global South.
After the ISCM approached NewMusicSA with the invitation to host the World New Music Days Festival in 2023 in South Africa, NewMusicSA's formal bid to host the festival and meetings was approved in July 2020, at the ISCM General Assembly meeting held online. 
Composer Diale Mabitsela, Chairman of NewMusicSA´s Board of Directors, says: "There is something somewhat strange about being a black South African composer. Now, I do not believe in nursing the victim status that often accompanies narratives of transformation, but it must be noted just how strange it is, at times, for me to reflect on the history of contemporary art music, knowing that I look to a culture and a tradition that is not my own, whilst seeking to situate myself within it somehow. And here before us, with the World New Music Days, is an opportunity. Not so much to situate Africa within a European, American or Western art music tradition, but to respond as Africa chooses to the question that drives the many great works composed under this banner; from Debussy and Ravel, through Schoenberg, Stravinsky, Stockhausen, Ligeti, Glass and Reich; all the way to the present day: Just how far can music go?"
The Artistic Director of the World New Music Days 2023, composer and percussionist Lukas Ligeti, says: "The festival's program will have three areas of focus. First, there will be the aforementioned contributions from the network's member organizations. Second will be a look back at 100 years of history of the ISCM and, specifically, the WNMD, presenting some of the most important works of concert-music composed during the last century. Finally, and most importantly, we will provide a multifaceted survey of the lively creative activity in experimental and innovative music in Africa."
The International Society for Contemporary Music (ISCM) is the premier forum for the advancement, dissemination and interchange of new music from around the world. Through ISCM, members promote contemporary music in all its varied forms, strengthening musical life in their local contexts and making their music and its creators known to world.
Since its founding in 1922, the ISCM network has grown to include more than 60 organizations in over 50 countries on every continent. The annual ISCM World New Music Days festival is the principle vehicle through which the ISCM pursues their mission. Organized each year by a different host, the festival presents music from each member section, showcasing the diversity of musical practice in our time. Recent festivals have taken place in Hong Kong, Lithuania, Sweden, Australia, Croatia, Belgium, Slovakia, Austria, Poland, Slovenia, South Korea, Canada, China and Estonia.
Festival events take place concurrently with the ISCM General Assembly meetings. Here delegates from member countries meet to discuss issues facing new music around the world and trends in international contemporary composition, and to plan ISCM events.
Glenda Keam, President of the International Society for Contemporary Music (ISCM), says "The World New Music Days 2023 will be high-profile milestone for international connection through new music. It is both historically grounded and ground-breaking, marking a century of new music-making through the ISCM World New Music Days that have occurred annually since the first one in Salzburg (1923) and brings the global network of organizations for the first time to the African continent. In line with the previous World New Music Days festivals, the history of international connection through new music has been growing. Beginning the next 100 years of the ISCM's history by bringing the festival to the African continent with significantly enhanced activities will contribute immeasurably to the richness of cultural exchanges globally."
Ms Keam adds: "The ISCM has striven for balance and more widespread representation in its recent festivals, and recent General Assembly meetings have introduced measures towards that end. Our statutes clearly articulate the crucial importance of recognising and supporting artistic diversity in music-making inclusively, dismantling any prejudice against any particular musical styles, nor against any race, gender or religion, through open and democratic processes. The World New Music Days 2023 in South Africa will increase the strength and viability of this objective."
The World New Music Days 2023 will bring together world-class musicians from around the world to perform along and together with world-class musicians from Africa. Audiences will have a unique opportunity to hear not only new African music but also experimental music from the past 100 years of the ISCM's history that is hardly ever performed on the continent. Three of the world's most outstanding new music ensembles with decades-long histories of championing new music are among the highlights of the World New Music Days 2023: Ensemble Modern (international ensemble based in Germany), Austrian chamber orchestra Klangforum Wien, and the Basel Sinfonietta, are an outstanding collection of forces in the new music world that will surely take Africa by storm. Their commitment, involvement and support of this unique event are indicative of its remarkable strengths and potential.
NewMusicSA is working progressively with local and international partners and stakeholders towards making this festival a reality. The Oppenheimer Memorial Trust is providing much-needed organizational funding for the preparation and planning of the event, the Rupert Music Foundation is sponsoring the annual activities of NewMusicSA, and Joburg Tourism and the Gauteng Tourism Authority are facilitating logistical matters in coordination with Namanje Events. Recent funders of the organization include the National Arts Council of South Africa, the Arts & Culture Trust and SAMRO.