NMSA New Music Indaba 2019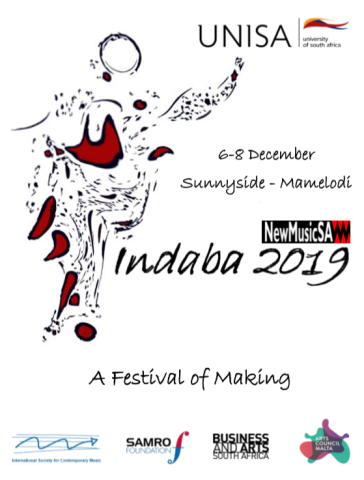 NewMusicSA is pleased to announce the 2019 New Music Indaba composition festival to be held at the University of South Africa. This year's theme, curated by composer, performer and academic Marc Duby, is concerned with exploring how composers deploy specific methods and resources (materials) in making music, whether these compositions be in the form of scores or drawing from real-time improvised approaches.
During the first weekend of December, the 2019 New Music Indaba will host a number of workshops, performances, academic papers, and special guests in and around Pretoria related to the conference theme which is understood as open-ended to cater for a wide range of compositional approaches.
This year's New Music Indaba will feature four main music performances: The opening concert on the afternoon of Friday 6th will feature the Jill Richards trio playing tribute to renowned South African composer Kevin Volans. Pianist Jill Richards says: "It's Volans 70th birthday this year so we are delighted and honoured that we will be playing the world première of his new trio clarinet, violin, and piano. Waldo Alexander and I will also play his extraordinary work violin and piano (dedicated to Waldo), and Morné van Heerden and I will play Double Take, a remarkable piece in which the solo clarinet sounds like two!"
The second concert on the evening of Saturday 7th will be devoted to free improvisation, having two different sets of performers: a first set comprised by Lukas Ligeti, Jonathan Crossley and Marc Duby. And a second set, including Edwin Balzan, Luc Houtkamp and Sazi Dlamini.
Sunday 8th will include two main performances. In the morning the stage of New Music Indaba 2019 travels to Mamelodi for an outreach activity. There, NMSA meets the Dr Philip Tabane Foundation for an improvised session of exchange between performers such as Thabang Tabane, Azah, Naftali, Sakhile Thwala, Dennis Magagula, Lukas Ligeti, and Jonathan Crossley, among others.
The final concert of the festival will again feature the Jill Richards trio, this time playing compositions selected by NMSA and UNISA.
Tickets to the event are available here.