NewMusicSA Concert Series 2021 - Concert #1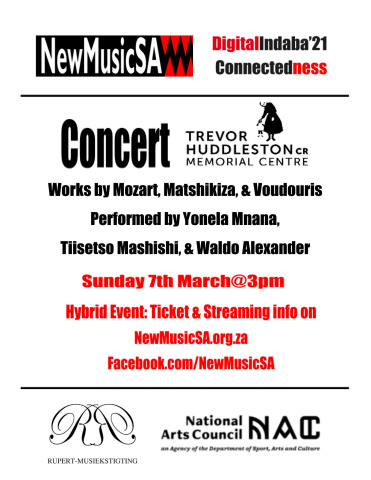 Concert celebrates best international and South African music from the past and the present 
NewMusicSA presents the first event of its 2021 Concert Series with a programme celebrating anniversaries of composers W.A. Mozart, Todd Matshikiza and Dimitri Voudouris. A selected programme of works will be played by Yonela Mnana, Waldo Alexander and Tiisetso Mashishi on Sunday 7 March at the Trevor Huddleston Memorial Centre.
A piano trio comprised by Yonela Mnana (piano), Waldo Alexander (violin & electronics) and Tiisetso Mashishi (viola) will be playing a selection of works by Wolfgang Amadeus Mozart (belated 230th anniversary of death), Todd Matshikiza (100th anniversary of birth) and premiering a couple of new works by Dimitri Voudouris (60th birthday).
The concert will take place at the Trevor Huddleston Memorial Centre (THMC), in an original 1930s Sophiatown home which belonged to the late Dr. AB Xuma, ANC president. THMC is an ideal location to present this concert, especially given the special relationship that the centre had with Todd and Esme Matshikiza (who's life we also celebrate). Moreover, the centre is the custodian of Todd Matshikiza´s original piano, which will play again the music composed by its original owner.
The Trevor Huddleston Memorial Centre exists to inspire communities and young people, and enable them to live, realise and achieve their dreams and thrive with dignity. "We look forward to a meaningful and exciting partnership", Joel Dikgole, THMC CEO. 
THE COMPOSERS
One of the most prolific and influential composer of the Classical period, Wolfgang Amadeus Mozart needs few introductions. The influence of his music spreads across periods and continents; Todd Matshikiza´s creativity started blooming in South Africa in the 40s.
Born in 1921, Todd Tozama Matshikiza is known worldwide for his jazz musical King Kong score and his short stories. His passion for classical music (particularly Bach, Beethoven, Mozart and Chopin) was reflected in his choral compositions - most notably Uxolo ('peace'), which was commissioned for the 70th anniversary celebrations of the city of Johannesburg in 1956. In an earlier choral piece, Makhaliphile (1953), dedicated to the late father Huddleston, he merged classical, jazz and traditional influences to masterful effect.
His son, John Matshikiza has spoken of the "visionary authority" of his father`s composing, "both in terms of his assimilation of South African and European musical traditions, and of his focus on the plight of South Africa as expressed through his music and lyrics."
Greek-born, Johannesburg-residing Dimitri Voudouris is a new music composer who applies analytical principles of biomechanics and motion theory to his composition strategy. Voudouris directed and curated the first edition of NewMusicSA´s Unyazi Festival, the first electronic music festival and symposium in Africa which took place at Wits University in 2005. On the occasion of Voudouris' 60th birthday, NewMusicSA has commissioned a new work which will be premiered at this concert. Entitled Panda Rhei, the work will be performed by Waldo Alexander on violin and Voudouris himself on electronics.
THE PERFORMERS
Yonela Mnana is a blind pianist and singer who grew up in Mamelodi, Pretoria. Praised for his debut album, Baba (2016), Mnana teaches at Ezibeleni School for Special Needs and studies towards his postgraduate degree in music at Wits University. Many compare Yonela Mnana's soul, jazz and classical music genius with Stevie Wonder or Ray Charles – although his singing, playing, composing, teaching, and arranging skills, are distinctly South African. Asked about this concert, Yonela says "I'm excited to be part of this giant pianist's celebration, and honoured to play his piano."
Waldo Alexander is a freelance violinist based in Johannesburg, with a professional reputation of more than 25 years. With skills appropriate to a diversity of genres and disciplines, he enjoys a special interest in New Music, experimental collaborations, musical arrangement and studio recordings. Waldo plays a fine Italian instrument on generous loan by the Lindbergh Arts Foundation; he is endorsed by Sennheiser South Africa, Prosound, and is the South African ambassador for DPA microphones.
Tiisetso Mashishi is a professional violist raised in Diepkloof, Soweto. He started his music studies at Buskaid String Academy in 1999 and later continued to the Royal Academy of Music in London. He is currently a violin and viola tutor at four schools in Johannesburg and is enjoying his career as a violist in Johannesburg.
Due to the ongoing public gathering restrictions, this concert will be recorded and streamed online through NewMusicSA´s social media platforms. Only invited guests and media will be allowed.
This concert is the first in NewMusicSA´s 2021 Concert Series, supported by the Rupert Music Foundation and the National Arts Council.
This Concert Series features as part of the NewMusicSA Digital Indaba 2021, a South African contemporary music programme supported by the Rupert Music Foundation, the National Arts Council and the Arts & Culture Trust.