MEUTE and Bombshelter Beast live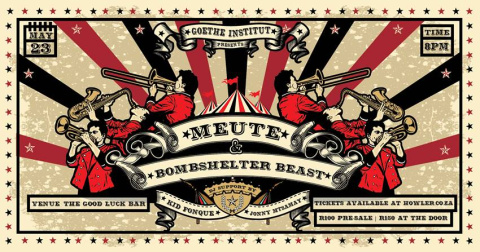 German techno-brass sensation MEUTE will be performing live in Johannesburg alongside South African kwaito-Balkan ensemble Bombshelter Beast, with DJ support by Kid Fonque and Jonny Mtsamay.
MEUTE is a ground-breaking brass ensemble that combines hypnotic driving techno and expressive brass band music, freeing electronic music from the DJ desk and overhauling the image of marching bands. After only two years on the scene, the 11 musicians in their iconic red jackets are selling out their own club shows and have managed to spread their love for hand-made electronic music all over Europe as one of the continent's most booked festival bands. The videos of their impromptu street gigs regularly attract millions of views.
The concert will happen on 23 May at The Good Luck Bar, Fox Junction.