MASTERCLASS TAGGED MUSICALITY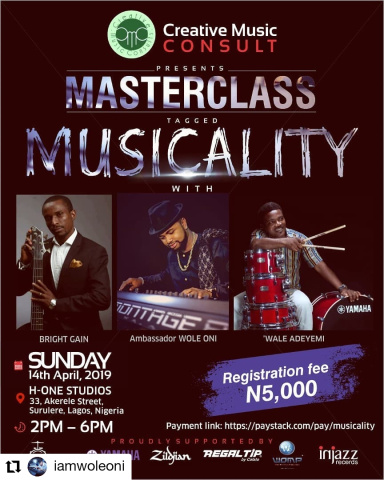 MASTERCLASS TAGGED MUSICALITY
MUSICALITY IS BROUGHT TO YOU ON A PLATTER OF GOLD! With Wale Adeyemi.
How sensitive are you as a Musician or Vocalist? How will you rate your knowledge on a scale of 1-10? Would you say music is a gift, a talent or an acquired skill you possess? Well, there are times we know what we need but can't access it financially.
HERE IS ONE MASTERCLASS YOU CANNOT AFFORD TO MISS: IT'S AVAILABLE AND IT'S AFFORDABLE. With extremely seasoned FACILITATORS:
'Wale Adeyemi, the YAMAHA Drums Ambassador (an authority on drums); Bright Gain, the Director of SPAN Academy of Jazz and Contemporary Music; Ambassador Wole Oni, the first YAMAHA Artist in Africa and multi-award winning Music Producer.
Make the right choice!
See you there!