INGODUKO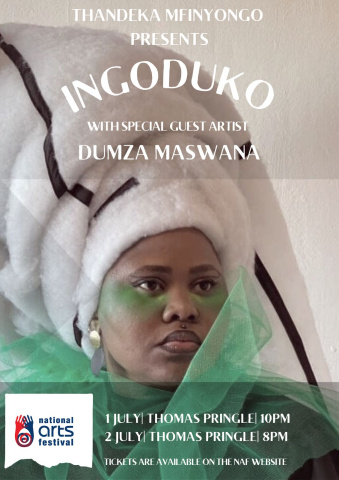 Ingoduko is a homecoming… the appreciation of African music by Africans… where it began. Feel the nostalgia of home through song. This musical performance is a celebration of our culture and gives voice to the Xhosa indigenous instruments – uhadi and umrhubhe.
The focus is to identify ways of preserving and teaching indigenous music to young people and anyone interested. With this production, we hope to encourage people to come back home to themselves and promote healing through music/song. It is meant to be a nostalgic process, as the two bows that I play have had that effect on my journey as a performer. Additionally, I want to create a platform for the participation, performance, and consumption of indigenous music.
Ingoduko aims to afford people access to information and skills centered around singing and playing indigenous instruments. Furthermore, we aim to document and archive the music for future generations and inspire holistic documentation of indigenous music of different cultures.
Date and Venues
1 July at Thomas Pringle @22h00
2 July at Thomas Pringle @20h00
PRODUCTION CREDITS
Thandeka Mfinyongo Band & guest appearance by Dumza Maswana
Thandeka Mfinyongo (lead vocalist, uhadi & umrhubhe player)
Nkosinathi Matomela (keyboardist)
Grant Van Royeen (bass guitarist)
Zama Qambi (percussionist)
Noxolo Blandile (backing Vocalist)
Siviwe Nomkala (backing Vocalist)