Family Fun Day Fundraiser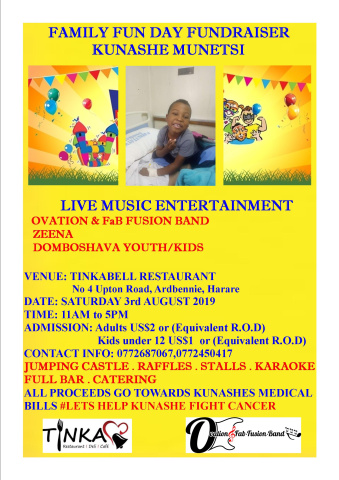 Ladies and Gentleman, boys and girls. Let's come together for a Family Fun Day Fundraiser for Kunashe Munetsi at Tinkabell Restaurant, no 4 Upton Road, Ardbennie, Harare, on Saturday 3rd of August 2019, from 11am to 5pm. Lots of fun entertainment, live music entertainment by Ovation and FaB Fusion band, Zeena The Diva, Domboshava Youth/Kids. We also have a Jumping Castle, Raffles, Stalls, Karaoke, Full Bar and Catering. Admission is BY DONATION. To book advance tables call 0774532184, 0785663153/4.
Invitation For Stalls at $20 (RTGS)
For Stalls bring your own tents, tables and chairs.
To purchase stalls email:brenwaynewyn@yahoo.com or Whatsapp 0772687067
All proceeds go towards Kunashe's Medical Bills, #Lets Help Kunashe Fight Cancer.