Call For Applications: Hagana Festival 2018, South Sudan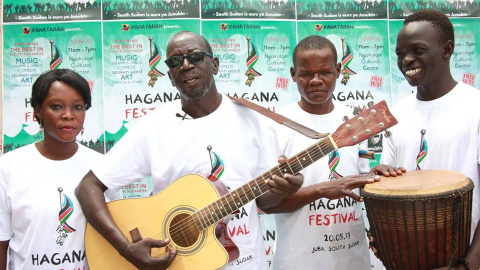 'Hagana' is an Arabic word meaning 'It is Ours' brought to you by Anataban Arts Initiative. The festival is using this word to encourage the citizens of South Sudan to take up ownership of their country and to promote peaceful coexistence.
Hagana Festival was organized last year for the first time on 20th May 2017 at Nyakuron Cultural Center at an event that attracted over 5,000 people with different artist showcasing their talents. Hagana Festival also featured an Art exhibition, Drama, Cultural and contemporary dances and Hagana Market showcasing different South Sudanese products.
According to the organisers, the 2018 Hagana Festival is going to be bigger and better targeting a turn out of up to 10,000 people and will be ongoing for two days in Juba, South Sudan.
Organisers are now calling on South Sudanese Artists or creatives who would like to participate in the Festival this year to fill in this application before April 14th by 5pm.