Blackout talks with creatives #9 with Eddie K. Hatitye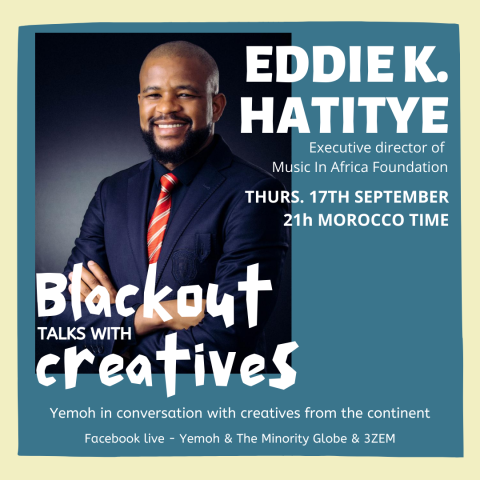 Facebook live on my page Yemoh & The Minority Globe and 3ZEM
✅ EDDIE K. HATITYE - Thursday 17th September - 21h
✅ Eddie Hatitye is one of the most recognisable young cultural operators in Africa. For more than 10 years he has been actively involved in the arts and culture sector, contributing immensely in the establishment of key structures on the continent. As the executive director of the Music In Africa Foundation, a non-profit pan African initiative that he has headed since its inception in 2011, Hatitye has travelled across the globe setting up networks and implementing various projects .
Hatitye has delivered talks at almost all the top global music platforms, including MIDEM (France), WOMEX (UK), Music Exchange (South Africa), Moshito (South Africa), Musikmesse (Germany), as well as Arterial Network's Creative Economy Conference in Senegal.
Before establishing Music In Africa as a fully fledged NGO, Eddie worked for the Goethe-Institut as project manager. Previously Hatitye was the head of content and editor for South Africa's leading online music industry portal, Music Industry Online. He has also worked on reputable music-related projects in South Africa including launching Pro-Systems, a leading print publication for the live event, AV and broadcast industries.
As an active music producer and one-half of house music duo Epic Minds, Hatitye has produced records with some of Africa's most talented underground acts.
✅ The concept of this limited series is to address the lack of creative collaborations between artists and creatives from various part of the continent. In this series, Yemoh will particularly shed the light on creative exchanges between north and west-African artists. In this context of the global protest Black Lives Matter, what could be the contribution of African artists ?
✅ The series of conversations Blackout talks with creatives is realized in collaboration with 3ZEM, a cultural center for music and arts in Rabat.