Ongala Music Festival 2019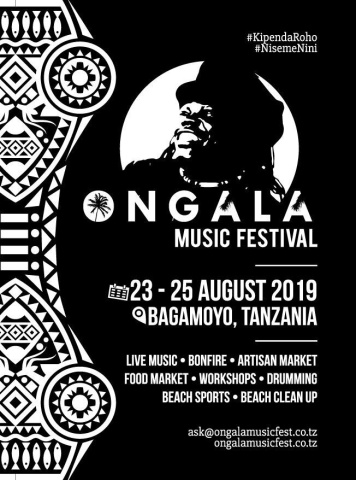 The second edition of Ongala Music Festival; a three-day live music festival created to celebrate the music, life and legacy of Remmy Ongala (1947-2010) will take place from Thursday 23rd to Saturday 25th August, 2019; in Bagamoyo. 
2018 line up covered the East African region with acts from Tanzania, Uganda, Kenya and Rwanda. There was a diverse array of musicians like King Kiki, Sikiinde, Msafiri Zawose, Swahili Ally, Wahapahapa, Carola Kinasha, Wamwiduka, Ambasa Mandela and many more.
The Remmy Ongala Tribute Band; made up of the remaining surviving members of Remmy Ongala's band, Orchestre Super Matimila with Remmy's youngest son on vocals, performed the timeless music of Remmy's 'bongo beat'.
Visit the link to read more on 2018 chapter: http://ongalamusicfest.co.tz/lineup/
Following on the success of the pilot festival, the festival team heads to a town richly steeped in history, culture and music. Together with the creatives of Bagamoyo, the team develop the second chapter of opportunities and platform for both performing and visual artists in the East African region. 
2019 line up is curated by the Ongala Music Festival team and partners. Follow @ongalamusicfest on social media to get the latest updates on the upcoming workshops, partnerships and collaborations, and programs.
~ The festival inspired by the late Remmy Ongala, aims to provide a platform for international artists, promote and showcase local talent and enable both to come together. Remmy's inspiration was to develop the fusion of different art forms and musical styles. We aim to provide opportunities for local artists to develop and grow through building international networks, hence contributing to the social, cultural and economic growth of Tanzania and the continent.