Hip Samba Fest 2019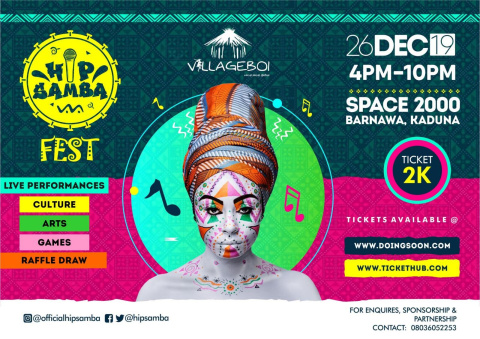 The Northern Nigerian Boxing Day event, which is in its fifth edition, will feature a mix of music, cultural performances, games, cuisine, visual arts, exhibitions and live shows, with contemporary artists showcasing their talents and entertaining  concertgoers.
Hip Samba is produced by independent electronic and print media outfit Villageboi Communications & Technology. The festival is a fusion of urban and traditional entertainment content. Hip stands for 'urban' while Samba stands for 'culture'.
The event will feature local vendors and a display of artworks. It will also be streamed live online to reach a wider audience. 
"We want our streaming audience to become immersed in Africa and to witness an unforgettable experience through ancient poetry, traditional and contemporary music, eclectic dancing, theatre arts, comedy and cultural dance," the event's project manager Vayan Joseph said.
The organisers have also presented a mission statement, which includes such goals and as to raise awareness about the need for young people to be agents of positive change, youth entrepreneurial education and promotion of self-reliance through creativity, awareness against the use of drugs, and the development of collaborations, among others.
Tickets to Hip Samba Festival 2019 are available here.