Africans Unite concert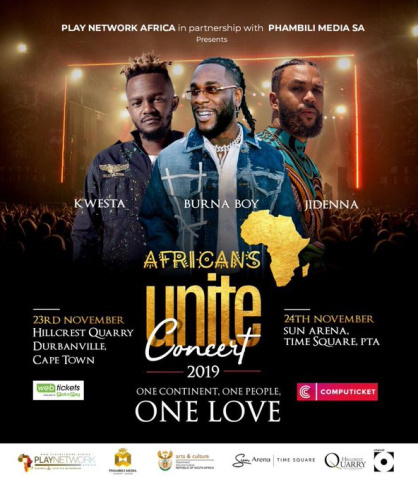 Following the recent xenophobic attacks and increasing reports of gender-based violence in South Africa. Burna Boy and Kwesta will headline a two-day concert in Johannesburg and Cape Town to unify all Africans and speak out against femicide.
Presented by South Africa's Tourism Department and Channel O, Africans Unite is a collaborative project by Nigeria and South Africa which aims to rebuild trust and respect by changing the current narrative to that of unity and solidarity.
Having found himself embroiled in the social media reactions against the xenophobic attacks, where the 'Ye' singer made a bold statement about never setting foot in South Africa again until its government acts against these attacks, Burna Boy says he's determined to lead the conversations towards reconciliation.
Tickets to the event are available here.